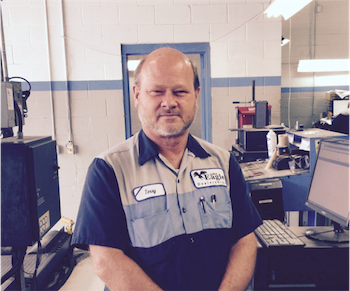 Congratulations to Terry Moore on 40 years with the John Eagle Auto Group! As I sat there in the lunch time crowd on the showroom floor of John Eagle Honda of Dallas that Friday afternoon in June with dozens of prior, current, and I am confident future employees of the John Eagle Auto Group I was taken back with emotion. Attending were some of Terry's past and present colleagues (including owners John Eagle & John Ingram), some of his closest friends and family, and most importantly his wife of that entire time span Teri. This story had all that attended visibly taken back by a flood of happiness, admiration, and envy and each instant I thought about the actual amount of time that one employee could spend with one employer it was tough to wrap my mind around it. Now, looking back to that day the accomplishment by this very professional and loyal Master Technician has had time to marinate and finally allowing the reveal of the big question of how?
Once you find someone to hire with the moral character, work ethic, and integrity of a Terry Moore , which is not easy, you can begin to think about the employee retention recipe. There are 3 key ingredients that are present that create an environment conducive to higher than average employee retention. A coaching style of management that not only supports each individual team member, but teaches them to teach others. This trait is called leadership. There must be an adaptive system within the company that allows change for technology, direction, and growth of the geographical population, product market area, and demographic market area. This trait is called process. The last ingredient that is much harder than it sounds is to keep each customer new and repetitive to your place of business service or sales environment and culture completely happy, even though a majority of them do not want to be there. This trait is Customer Satisfaction.
With all of the ingredients listed above (Leadership, Process, and Customer Satisfaction), you too can have a work environment that has the ability to last a long time with the sustainability for same type of employees spanning that same period.