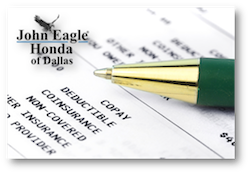 Whether you buy or lease a new or used car, truck, or SUV you are buying an asset that depreciates in value. This amount is different on each vehicle based on supply, demand, parts availability, and many other factors as to the amount of depreciation. You can be sure just like any new item purchased that it becomes used immediately and such depreciates immediately. Another fact is that with vehicle prices rising significantly through the years over 86% of auto consumers finance a vehicle purchase with a commercial lender, which includes leasing as an alternative form of financing the vehicle. What would any of this have to do with insurance? Well if you happen to have an accident in that vehicle, fault or no fault, where the damage is enough that your auto insurance carrier elects to recommend a total loss of the vehicle, the asset, you may find yourself with not only a deductible to pay, but a deficiency amount above and beyond the deductible.
Example:
New Vehicle Lease or Finance Amount: $29,000
Insurance Company Replacement Value: $25,000
Policy Deductible: $500
Depreciation Gap Value: $3,500
Total Deficiency Amount Owed: $4,000
This unintended consequence of depreciation and finance has a solution that is called Gap Insurance. This policy, when available or included with your loan or lease by your lender and/or third party, covers the deficiency so you can move forward without financial penalty for depreciation of a new or used car, truck, or SUV. This is included with all Honda new vehicle leases through Honda Financial. Ask your John Eagle Honda of Dallas Finance Professional for details.